Advertisement to the Reader in Donne's Pseudo-Martyr
Dublin Core
Title
Advertisement to the Reader in Donne's Pseudo-Martyr
Creator
W. Stansby; Walter Burre; John Donne
Rights Holder
Special Collections, University of Victoria
Rights
Special Collections, University of Victoria
Subject
Early modern, 1500-1700.
Renaissance--England.
Donne, John, 1572-1631.
England--Church history--17th century.
Oath of allegiance, 1606.
Description
First of three pages that address the reader of Donne's 1610 edition of Pseudo-Martyr.
Source
Special Collections, University of Victoria, BX1492 D6
Contributor
Ashley Howard
Format
Printed book, w15.7cm x h21.4cm x d2.6cm
Date Created
17 November 2017
Bibliographic Citation
John Donne. Psevdo-Martyr: Wherein ovt of certaine propositions and gradations, this conclusion is euicted. That those which are of the Romane religion in this kingdome, may and ought to take the Oath of Allegeance. Walter Burre, 1610. Special Collections, University of Victoria Libraries, Victoria, BC. 2017.
Files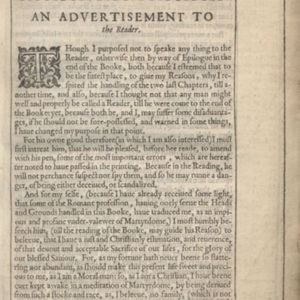 Citation
W. Stansby; Walter Burre; John Donne, "Advertisement to the Reader in Donne's Pseudo-Martyr,"
UVic Libraries Omeka Classic
, accessed July 2, 2022,
https://omeka.library.uvic.ca/items/show/1199
.
Embed
Copy the code below into your web page