Cropped Title Page of Donne's Biathanatos
Dublin Core
Title
Cropped Title Page of Donne's Biathanatos
Creator
Humphrey Moseley; John Donne
Rights Holder
Special Collections, University of Victoria
Rights
Special Collections, University of Victoria
Subject
Early modern, 1500-1700.
Renaissance--England.
Donne, John, 1572-1631.
Suicide--Early works to 1800.
Description
Cropped view of the title page Donne's Biathanatos
Source
Special Collections, University of Victoria, PR2247 B5 1648
Publisher
Humphrey Moseley
Contributor
Ashley Howard
Format
Printed book, w14.5cm x h18.6cm x d1.6cm
Date Created
2 December 2017
Bibliographic Citation
John Donne. Biathanatos: A declaration of that paradoxe, or thesis, that self-homicide is not so naturally sin, that it may never be otherwise. Wherein the nature, and the extent of all those lawes, which seeme to be violated by this act, are diligently surveyed. Humphrey Moseley, 1648. Special Collections, University of Victoria Libraries, Victoria, BC. 2017.
Files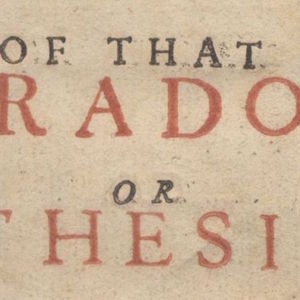 Citation
Humphrey Moseley; John Donne, "Cropped Title Page of Donne's Biathanatos,"
UVic Libraries Omeka Classic
, accessed August 19, 2022,
https://omeka.library.uvic.ca/items/show/1361
.
Embed
Copy the code below into your web page