Four panel comic of a female skateboarder's response to being ridiculed by men
Dublin Core
Title
Four panel comic of a female skateboarder's response to being ridiculed by men
Rights Holder
Special Collections, University of Victoria
Rights
Special Collections, University of Victoria
Subject
Discrimination against women in public spaces
Description
This is a four panel comic featuring a female skateboarder being jeered at by men because they think women cannot skateboard. The girl stands up for herself and skates on.
Publisher
Melanie Aguila; Toronto, ON, Canada
Files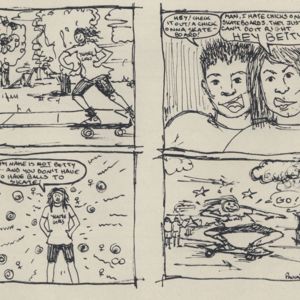 Citation
Paula Gonzalez, "Four panel comic of a female skateboarder's response to being ridiculed by men,"
UVic Libraries Omeka Classic
, accessed August 19, 2022,
https://omeka.library.uvic.ca/items/show/1653
.
Embed
Copy the code below into your web page